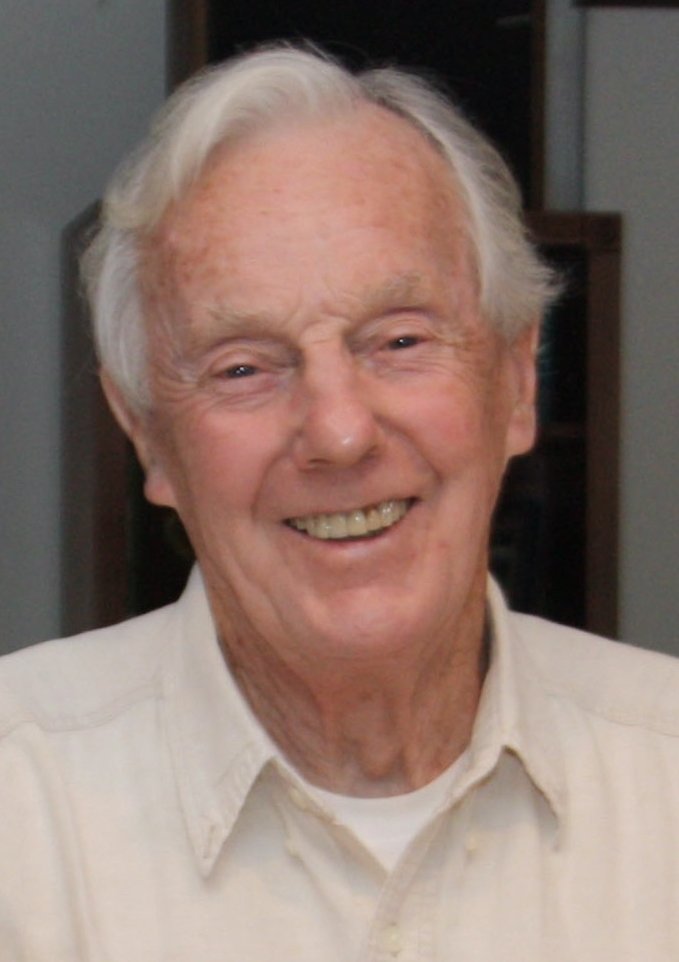 Obituary of Charles T. Roush
Lake George: Charles Roush was a strong-willed, honorable man. He had a great intelligence and a broad deep knowledge of literature and history and science. He set high standards for everything he did, great and small – from raising his family, pursuing his career, coaching sports, playing sports himself, to the photography and wood working skills he taught himself. His opinions were strong, arguing politics or ideas with him was not for the faint-hearted. He believed there was right and there was wrong, period. He lived a long, active, life that took him from the city streets of New York to the wooded mountains of the Adirondacks. Charlie was born in New York City, spending much of his childhood living in the West 60s, back when it was tenements, before Robert Moses razed them to build Lincoln Center. Then moving as a teen to the Bronx, off Grand Concourse near Fordham and Arthur Ave. Charlie always talked with pride of the toughness of the streets he grew up on. His Dad, Okey Roush, was a horseman from Ohio who had come east to work for one of the men he drove cattle for, trading horses for cars to become a chauffeur for the man's family. Summers he would take the family with him to the boss's summer home in Norfolk, Connecticut. For Charlie, those summers spent on acres of grass and woods awakened a lifelong desire for country living. And it was in the local library there, with its two stories of endless rows of books, that his lifetime love of reading was formed. Charlie said he was blessed to have been loved by two wonderful women in his life. The first was Dorothy Strauss, whom he married in 1952. They set up house on Decatur Ave in the Bronx and started a family. The night after their first child, a girl, Kathy, was born, he sat in the local Irish pub asking his friends, what do you do with a girl? He learned quickly, as one girl followed another, Karen and then Sue, before a son, Michael joined them, followed again by a few more girls, Ellen, Nancy, Eileen. Though old school in many other ways, he always expected as much for his daughters – academically and athletically – as he did for his son. Everyone played sports – baseball, softball, basketball, lacrosse, skiing and he was at every game. He taught his kids what it meant to be part of a team, the responsibility to show up, practice, never quit, and always give your best. As a young family man, Charlie worked days and went to school nights, earning a master's degree in accounting from New York University. Dorothy bragged about him passing his CPA exam on the first try. He went to work for General Foods, where he moved steadily up the ladder to become an executive systems analyst. He moved his family out to Westchester where he and Dorothy stayed and raised their family over the next 25 years. In his 50s he took an early retirement and, still yearning for the country life, he and Dorothy headed up to the Adirondack Mountains. Once there, he took quickly to his new retirement life. He joined the Adirondack Mountain Club, hiking and canoeing the north country. He started golfing more, becoming a regular at Cronin's golf club. His grandson Bryan remembers golfing there with him; how he would rush through the course. If someone ahead was taking too long at a hole, he would pick up his ball and move pass them to the next hole. Bryan always thought it was the camaraderie of the clubhouse after the game that was the highlight of golfing for him. He also returned to skiing, joining the GOOFS (Gore Organization of Frequent Skiers). First on the lift each day, he and his friends would go straight to the top of the mountain and have a contest to see who could make the most turns before lunch (their measurement of how good a skier you were). Chatimac Charlie his friends called him, for his favorite trail, a steep black diamond of course. His grandkids will tell you that going up to spend a week or weekend skiing with Grandpa was one of their favorite memories. He would wake them up before dawn, fix them a big breakfast, pack lunches, and head out to the mountain as the sun was coming up, windows down, classical music or Neil Diamond (Sweet Caroline over and over again) blasting, racing around the curves of the country road, passing cars that dared get in the way of his determination to be first on the lifts. Someone would have to unlock the gates to the parking lot when they arrived, and sure enough, they were the first on the lifts. He would take them to the top and point them down the mountain, following behind yelling "Pole up! Pole up!" Being early wasn't reserved just for the mountain. For Charlie, being on time meant being the first to arrive. When Kathy got married, he got her to the church before anyone else, where she crouched in the back seat of the car so the arriving guests wouldn't see her while he stood at the car door yelling at her to get out. Charlie did a lot of yelling in his life. He yelled at his kids growing up – turn down the music, turn off the water, shut off the light, get off the phone! He yelled at the kids he coached to keep their eye on the ball, get in front of the ball, slide, don't slide, keep that elbow up! He even yelled in his emails, every one of them written in all CAPS. Baseball was a passion for Charlie during his years in Westchester. When Michael was old enough to play ball, Charlie became a Little League coach, and then a Babe Ruth coach and an American Legion coach. Spring and summer were scheduled around baseball – practices a few times a week, a quick meal of hot dogs and beans before a game, and ice cream at White's Custard Stand after a win. When Michael went off to college, Charlie continued coaching, guiding generations of teens in baseball skills and the importance of striving to be your best. He was a winning coach, taking Michael's Little League All-Star team to within one game of the World Series, and later, the American Legion team to the championship game at Cooperstown. The players and their families loved and respected him, many kept in touch for years. When Charlie finally retired from coaching, the White Plains paper, The Reporter Dispatch, did an article on his coaching legacy. He loved the home he built on 10 acres in the woods. In Westchester he had had a small garden, corn and beans and tomatoes squeezed into a small patch on his suburban lot. Now he had room for some serious gardening. Well into his 60s, he built a fence around a quarter acre plot, pounding posts into the earth, hoeing and planting and harvesting. Then cooking up meals with freshly picked vegetables. He stood a bird feeder in the backyard just outside the windows. The squirrels stealing bird seed were not welcome, but he was delighted by the bears that showed up. There is an album of photos of the creatures that visited his yard: deer, possums, a fluffy white baby owl, a hawk. When the grandkids visited, he would hang a whistle around their necks and send them out in the woods to explore, telling them that if they got lost (or saw a bear) to just blow the whistle. Though they were a little alarmed when they tested out blowing the whistle and no one came running! Charlie and Dorothy enjoyed almost 10 years together in their country home before Dorothy became ill and died in the spring of 1995, just weeks before what would have been their 43rd anniversary. Charlie was devastated by the loss, for a while even his kids and grandkids weren't able to pull him back to joy. Then a few years later, joy returned when he met the second love of his life, Jean. Now over 70, they began a new phase of their lives together. They married on a deck overlooking Lake George in a ceremony that surprised their friends, who thought they had just gathered for a regular party. Jean moved into the house in the woods and together she and Charlie spent 21 wonderful years there. They traveled to Italy to ski and to Ireland where Charlie's mother had immigrated from as a young woman. Every Thanksgiving the families would gather, and Charlie and Jean would cook up a feast for kids and grandkids and eventually great grandkids. They skied and played golf together. They had a great social circle of friends. Charlie had become an excellent photographer and there are albums full of photos of parties and ski gatherings, holiday and birthday celebrations. Into his 90s Charlie stayed active and sharp witted, fiercely independent. Asked by his grandson Joe, what his key to longevity was, he answered "Two fingers of whiskey every night. No more, no less." The early morning trips he was still making to the Glens Falls Y to run and swim may have had something to do with it too. Or the physical labor of caring for 10 acres himself. Or his zest for life – dancing with Jean at his grandson Billy's wedding until 10 PM, playing with his great grandchildren, cheering on his grandkids at football and baseball games, learning to design and print his own photography projects, skiing triple diamonds and golfing – all in his 80s and 90s. Charlie had an indomitable will. He spent the last 6 months of his life fighting to overcome the effects of a stroke, rallying back from the brink time and again when the medical staff had given up hope for him. As he had once taught his children – he never quit. Though he refused to ever accept that he was not going to get better, he accepted the daily suffering of his illness with fortitude and grace. Charles Thomas Roush was born in New York City on January 22, 1927 to Okey Roush and Lillian Roush. He was an Army veteran, joining after graduating high school and was getting ready to ship out just as WWII ended. He is survived by his second wife, Jean Roush. He is also survived by his children: Kathleen Schmitt and her husband Robert Schmitt, Karen Roush, Susan Novak, Michael Roush and his wife Wendy Roush, Ellen Roush and her wife Pat Oprandy, and Nancy Laurent and her husband, Martin Laurent. He is survived by 12 grandchildren and 6 great grandchildren. He is predeceased by his first wife, Dorothy Roush, a daughter, Eileen Roush, and a grandson, Vincent Cass. Friends may call on Charlie's family from 11 am to 1 pm, Tuesday, April 6, 2021 at the Alexander Funeral Home, 3809 Main St., Warrensburg. A funeral service to celebrate his life will immediately follow the visitation at 1 pm, at the funeral home with Fr. Thomas Pettigrew, officiating. Burial with military honors will follow in Warrensburg Cemetery. The family is so grateful for the exceptional care and kindness Charles received at Nathan Littauer Nursing Home in Gloversville NY and for their extraordinary efforts to help us get him back to the home he loved for his final days. We are also so thankful to High Peaks Hospice for their invaluable and compassionate assistance on such short notice. In lieu of flowers, the family asks that donations be made to High Peaks Hospice of Glens Falls NY or Warrensburg Little League, PO Box 301, Warrensburg, NY 12885. Please visit www.alexanderfh.net for online guest book, condolences, and directions.
Calling Hours
11:00 am - 1:00 pm
Tuesday, April 6, 2021
Alexander Funeral Home, Inc.
3809 Main St.
Warrensburg, New York, United States
518-623-2065
Calling Hours
Funeral Service
1:00 pm - 2:00 pm
Tuesday, April 6, 2021
Alexander Funeral Home
3809 Main Street
Warrensburg, New York, United States
Funeral Service
Share Your Memory of
Charles
The Funeral Home is registered with the New York State Department of Health as Alexander-Baker Funeral Home
Family Owned and Operated

Our funeral home & staff is in no way associated with a funeral home of a similar name located in Queensbury.