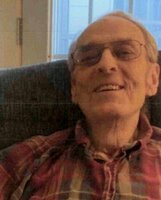 Donald R. "Skip" Diefendorf
JOHNSBURG: Donald R. "Skip" Diefendorf, 82, of Johnsburg, NY, son of the late Chauncey and Marion (Richardson) Diefendorf, passed away at his home after a lengthy illness on March 1, 2023.
Skip came into this world on April 21, 1940 in Canajoharie, NY. He graduated from Canajoharie High School in 1958 and went on to SUNY Morrisville and received his Associate's Degree in Auto Technology. Besides obtaining a degree, Skip was president of his fraternity. Most importantly he met the love of his life, Helen Loveland there. Skip and Helen were married on May 25, 1960 and have been married for 63 years.
Skip took a job with Xerox in Rochester, NY as a Tech Representative fixing machines. Throughout his 35 years he worked his way up the corporate ladder to become a Service Education Program Manager. This job allowed him and Helen to travel extensively throughout the world, including Japan, South America, Europe and Hawaii. Skip coached pop warner football and little league baseball and was known as "Coach Dief" to all the kids. He not only was their coach and mentor but also their taxi to and from practice.
Skip loved vacationing at Garnet Lake for over 40 years. He and his children could be found at stock car racing most weekends at the various racetracks near Rochester and here at Fonda Racetrack. He was very involved in the Johnsburg Methodist Church since his move to Johnsburg in 1998. Skip was extremely generous, some would even call him a philanthropist, to all veteran service organizations.
Predeceasing Donald is his son Donald R. Diefendorf Jr.
Left to cherish Skip's memory is loving wife Helen Diefendorf; sons Daniel M. Diefendorf and Darick A. Diefendorf; granddaughter Jessica Diefendorf Ives; great grandchildren Ava and Anniston Ives and many nieces and nephews.
Memorial donations may be made to the Johnsburg United Methodist Church, P.O. Box 98, Johnsburg, NY 12843.
Friends may call on Skip's family from 3pm – 6pm, Wednesday, March 8, 2023, at the Alexander Funeral Home, 3809 Main St., Warrensburg.
A funeral service to celebrate his life will be conducted at 10am, Thursday, March 9, 2023 at Johnsburg United Methodist Church, 1798 S. Johnsburg Rd., Johnsburg, NY 12843.
A graveside service will be conducted at 11am, Friday, May 19, 2023, in Garnet Lake Cemetery, Johnsburg.
Please visit www.alexanderfh.net for online guest book, condolences, and directions.