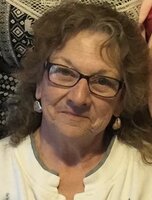 Gretchen L. Millington
JOHNSBURG: Gretchen L. Millington, 74, of Johnsburg, NY, daughter of the late John and Sarah (Campney) Leddick, passed away after a short illness at Glens Falls Hospital on January 10, 2023.
Gretchen was born on April 18, 1948 at her home in Johnsburg, NY. She has been a regular in Johnsburg since her birth right up until her death. Gretchen received her GED and worked in many local restaurants, was a real estate agent and found her career at Elderwood North Creek, formally Tri-County Nursing Home, retiring after 20 years as a medical record clerk.
Gretchen has been part of the Johnsburg Planning Board since 2015. She enjoyed camping, riding motorcycles barefoot and crocheting. However, Gretchen's favorite past time was spending time with her great-grandchildren and dogs Sassy Girl and Little Bit.
Besides her husband Dave, Gretchen is predeceased by sisters Silvia Goodspeed, AnnaMae Goodspeed and Lee Ross; brother Melvin Leddick and several nephews.
Left to cherish Gretchen's memory is her daughters Reisha (Frank) Thissell of Johnsburg and Kathy (Andy) Templeton of Thurman; sister Peggy (Angus) McClean of North Creek; twin brother Gregory (Gloria) Leddick of Missouri and Mike (Rita) Leddick of Olmstedville; grandchildren Ashley Thissell of Glens Falls, John (Brooke) Thissell of Johnsburg, Brandon Feiden of North Creek, Emma Feiden of Indian Lake and Nolan Templeton of Thurman; great grandchildren Logan, Joseph, Jackson and Rowan and several nieces, nephews and cousins.
A celebration of life will be held at a later date.
Please visit www.alexanderfh.net for online guest book and condolences.