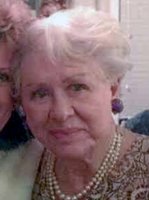 Corinne Marie Proudfoot
Bolton Landing:
Corinne (Baur) Proudfoot, 93, passed away peacefully, Tuesday, November 26, 2019 surrounded by her loving son and daughter in the comfort of her son's home where she lived for the last 15 years.
Born March 12, 1926 in Queens, she was the daughter of the late Robert Carl and Cora Agnes (Hitchcock) Soldan.
She graduated from Richmond Hills High School as Valedictorian in 1943 and shortly after took a job at a bank until she married Harvey W. Baur on December 24, 1944. She traveled the country with her husband until his honorable discharge from the Air Force in 1946. She remained a homemaker and school volunteer until her children were grown, and then took a job as social secretary for the head of The Washington Post in Washington D. C.. The couple later moved to Montclair, NJ where she worked as social secretary for a prominent stock broker who had his own seat on the New York Stock Exchange. Later in life, she was a member of the Queensbury Senior Citizens Club.
Besides her parents, she is predeceased by her three husbands and two sister-in-law's.
Left to cherish her memory are her daughter, Donna Stone of Oceanside, CA and son, Chris Baur of Bolton Landing; as well as five grandchildren and 14 great-grandchildren.
A private graveside service was conducted on December 3, 2019 with only close family and friends in Fairview Cemetery, Middletown, NJ.
Her family wishes to extend a sincere thank you to High Peaks Hospice for their help and kindness, and to CNA Janelle Rapp for her extraordinary care and friendship to Corinne in her last seven months.
Expressions of sympathy may take the form of donations to North Country Ministry, PO Box 478, Warrensburg, NY 12885.
Please visit www.alexanderfh.net for online guest book and condolences.