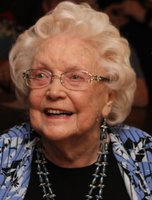 Marian E. Morey
Lake George:
On November 5, 2019, Marian Baker Morey passed away at 100 years of age. During her last days, she was surrounded by people who loved her, including Richelene Morey (niece) and her husband Mark (nephew) and Darlene VanGuilder Gunther (niece) as well as visitors that included her daughter Virginia (Cubby) Morey Pike; her granddaughters Stacy Miller (and her husband Terry) and Alexandria Morey, as well as Julie Nelson who resided with Marian at her home in Lake George, NY, in her final months.
In June 2019, Marian was feted by about 100 people celebrating her 100th birthday at Mollie's Mason Jar & 9 North Wood Fired Pizza in Hadley. She looked marvelous and thoroughly enjoyed being honored by so many people who loved her. The band (the Desperados) was terrific, the line dancing was lively and entertaining, and the food and service provided to the many guests were great in every respect. Marian's nephew, Mac Morey, served as the official photographer, taking dozens of pictures to capture the fun and excitement.
Attendees at the celebration included her local daughter, Virginia and her daughters Stephanie Pike Bedient from West Palm Beach, FL and Sonja Pike Potter and husband Kevin and her three daughters, from South Glens Falls, NY; her daughter Penny and her daughter, Alexandria Morey and her husband Joe Adams from Wallingford, VT; her son Ike and his wife Linda; her granddaughter Natalie Malcolm Adams and her daughter, Ellen from Boston; and many great and great-great grandchildren—plus so many friends and well-wishers. (Virginia's daughter Stacy would have been there; but her daughter, Jine Miller LaBrake was graduating with her bachelors degree that same day--too many delightful things going on at once.)
Born on June 2, 1919, in Thurman, NY, Marian was the second child born to Edith Mattison Baker and Truman Baker. They moved often while Marian was growing up, necessitating that she acclimate to new schools numerous times—nine of these were one-room school houses, by the way. As she tended to be shy, this was often challenging for her. Her two siblings, Frances and Beecher passed some years ago. However, their children—as well as the children of her husband's sibling, Kenneth Morey—remain close with their Aunt Marian.
Marian and her husband James had four children: Virginia Morey Pike of Corinth; Gail Morey Malcolm Couse (formerly of Lake George, NY, now deceased); Penny Morey of Boca Raton, FL; and Ike Morey who recently retired from being a professional fire fighter for the City of Palm Bay, FL. He and his wife Linda now reside in Murphy, NC, although they travel extensively.
Marian and her husband, James (Jim) were partners in running Morey Trucking for many years in the greater Lake George area. She managed the office and did the bookkeeping, as well. However, in her earlier years, she worked in Schenectady, NY, at General Electric during World War II while Jim was in the Navy serving in the Pacific. After the War, they returned home to the North Country. Marian continued to do her share to support the family, first working at a shirt factory in Warrensburg, NY and then in Glens Falls, NY. Marian and Jim also owned a home in Silver Springs, FL, where they spent the winter months for many years—traveling back and forth in a motor home. Eventually, they decided to spend their remaining years solely in Lake George. James passed at age 88 in 2007, a few months after they had celebrated their 70th wedding anniversary.
Marian was an excellent cook and homemaker in every sense. Virginia Morey Pike learned many kitchen skills from her mom and is a fabulous cook and baker and well as being a warm and welcoming hostess for family gatherings for decades. Virginia also was a teacher for 27 years in the Glens Falls School District where she was awarded the "Teacher of the Year" honor in 1997.
Most recently, Marian was the matriarch of the Morey family. Her niece Richelene Morey (Mark Morey's wife) and Mark, as well, were unfailingly helpful to Marian every week and in every way; and her niece Darlene Van Guilder Gunther visited weekly and she and her husband Bobby were always happy to be helpful to their Aunt Marian, also.
Marian had a collection of beautiful decanters that she and her husband James amassed over many years of frequenting yard/garage sales and flea markets. She was properly proud of these as well as her collection of antique kitchen implements. She like to "stump" people about how many of them were actually utilized "back in the day"—it was kind of like being on a quiz show, actually.
Marian was a voracious reader and a number of family members worked diligently to keep up with having new books for her to read. She recently read Becoming by Michelle Obama courtesy of her niece Darlene Van Guilder Gunther. She especially enjoyed learning more about Mrs. Obama, as she was one of Marian's favorite people.
Marian will be greatly missed by many people whose lives she touched.
Friends may call on Marian's family from 4 to 6 pm, Friday, November 8, 2019 at the Alexander Funeral Home, 3809 Main St., Warrensburg.
A funeral service to celebrate her life will be conducted at 11 am, Saturday, at the funeral home.
Burial will follow in Evergreen Cemetery, Lake George.
Marian's celebration will continue at Lizzie Keays Restaurant, 89 River St., Warrensburg following the burial.
Please visit www.alexanderfh.net for online guest book, condolences, and directions.