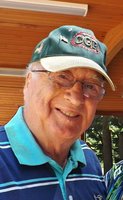 Donald R. Burdett
WARRENSBURG:
Donald R. Burdett, 81, quietly passed away with his family by his side on October 31, 2019 following a brief illness.
Don was born March 30, 1938, the son of the late Milton and Juliette (Potter) Burdett. He grew up in Warrensburg and attended Warrensburg Central School where he was a noted athlete. Following high school, Don served in the U.S. Army. Following three years of service, he was honorably discharged and returned to Warrensburg in 1960.
For more than 30 years, Don was employed by International Paper in Corinth holding the position of crane operator the last several years of his tenure. He retired in February 2000 to pursue full-time his passion for golf and could be found on the links at Cronin's in all types of weather. Never one to sit home, Don made daily rounds of the local eateries and taverns with his canine companion Isabella riding shotgun.
Don was predeceased by his parents, his brother Ronald Burdett and his brother-in-law Vernon Harris.
Those he left behind include his sister Joan Harris; his brother, Rick Burdett and his wife Annette; his children, Greg Burdett and his wife Nancy, Eric Burdett and his wife Gillian, Rebecca Palmateer and her husband Chris, Maria Huse and her husband Dan; grandchildren Joshua, Courtney, Sarah, Shannon, Eric, Nathaniel, Anthony, Cheyenne; great-grandchildren Jose David, Michael, Mackenzie, Cambria, Ronan and Raegan, as well as several nieces and nephews and many, many friends. He will be missed.
Friends may call on Don's family from 4 to 6 pm, Wednesday, November 6, 2019 at the Alexander Funeral Home, 3809 Main St., Warrensburg.
A funeral service to celebrate his life will immediately follow the visitation at 6 pm at the funeral home.
Burial will be conducted privately in North Caldwell Cemetery at the convenience of his family.
Please visit www.alexanderfh.net for online guest book, condolences, and directions.