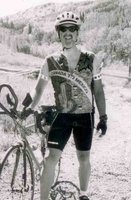 Christopher Leary
Lake George:
Christopher Leary, age 67, died on October 26, 2019 at Elderwood Nursing and Rehabilitation Center in North Creek, due to complications from Parkinson's disease.
Chris was born on January 1, 1952 to the late John and Maud Leary, and grew up in Hudson Falls, NY.
Chris had his father's quick wit, and his mother's kindness. His love of and participation in many sports was fostered early on by his older brother John; they enjoyed playing rugby together for the Albany Medical Center team, and taking weekly long skiing trips out west for many years.
An appreciation for art as an every day part of life was inspired by Chris' younger brother Dan, a printmaker. Two of Chris' favorite pieces were a charcoal drawing of his Springer Spaniel "Frith" and a print of "Haley's Comet".
Chris met his wife of 45 years, "Charlie" when she was vacationing at Lake George just after finishing college. They were married two years later, and filled their lives with hiking, camping, bicycling , skiing, concerts, movies, dogs and gardening.
Chris worked as a visiting nurse before obtaining his degree as a Physician's Assistant. He worked at Hudson Headwaters Health Network for over 30 years. This profession matched his personality perfectly; he was kind and conscientious, and gave much of his time and energy to others in order to make their lives better.
Chris served on the Board of Trustees at Adirondack Community College (now SUNY Adirondack) for 10 years, and was instrumental in proposing The Adventure Sports Program that is now a popular major at the College.
Chris was known for his athletic prowess and love for long-distance bicycling. He traversed the USA several times, rode 24 hour challenges, and traveled to France to ride in the coast to coast Paris/Brest Paris event. He participated in charity rides, and the race up Mt. Washington many times.
In the winter, bicycling was replaced with downhill skiing at Gore and West Mountain locally and group trips out West and Europe.
Chris was predeceased by his parents, John and Maud (Parkhurst) Leary.
He leaves behind his wife, Charlene, his brothers John Leary MD (Nancy) and Daniel Leary, as well as several nieces, nephews and cousins.
Friends may call on Chris's family from 4 to 7 pm, Wednesday, October 30, 2019 at the Alexander Funeral Home, 3809 Main St., Warrensburg.
A memorial service to celebrate his life will immediately follow the visitation at 7 pm.
His family would like to extend a heartfelt thank you to the staff at Elderwood for the care and compassion given to him during his final chapter.
In lieu of flowers, expressions of sympathy may take the form of contributions in his memory to the Warrensburg High School Scholarship Program.
Please visit www.alexanderfh.net for online guest book, condolences, and directions.