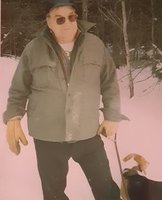 Claude J. "Bud" Cleveland, Jr.
North River:
Claude "Bud" Cleveland, Jr. died October 26, 2019 at Elderwood in North Creek. Claude was born in North River on July 30, 1932 to Claude and Maude Cleveland. He grew up with several siblings, Ernest, Willie, Elaine, Eva, Douglas, Theresa and his cherished little sister, Lu.
Claude attended High School in North Creek and joined the US Army, serving during the Korean conflict, stationed in Germany as part of the peace-keeping mission. He became a Sargent overseeing troops in artillery. After his service with the Army, Bud married the love of his life and best friend, Anna (Searles) Cleveland on April 22, 1960. They moved to Lyons Falls where Bud and Anna raised three sons. The boys brought great pride to them as well as many joys and adventures. Bud worked for the Georgia Pacific Company hauling paper products until his retirement. He earned several awards for many millions of miles driven without accidents. He took pride in his work and kept his trucks in tip-top order.
At retirement, Bud and Ann returned to North River and enjoyed caretaking their horses. Bud was particularly proud of his percheron, Ben. Ben gave him many years of fun and companionship. Bud enjoyed driving Ben around town using the cart he built for their drives. Bud enjoyed hunting, fishing and camping- amusing everyone with funny stories from the old days or from his days as a Teamster. He also enjoyed teaching his grandchildren funny poems, rhymes and songs he memorized from his childhood. He enjoyed helping with homework, specializing in History, Math, Spelling and Geography. His memory for details was keen. He was often called "The Walking Atlas" or "The Walking Phone Book" at home.
Bud is survived by his wife of 59 years, Anna Searles. He also leaves behind his sons, Mike (Renee), Terry (Elizabeth) and Mark (Terri). Bud also leaves behind seven grandchildren, Katie, Kelly, Jon, Jamie, Kristy, Nolan, and Laura,. Bud leaves thirteen great grandchildren and many nieces and nephews. There are many special friends that Bud leaves behind but special mention of Joe and Janet Austin and Ervie Smith is in order. They were truly great friends and would do anything they could for Bud. Bud's family would like to thank Dr. Yun at the CR Wood Cancer Center at Glens Falls hospital and to the staff at Elderwood in North Creek who attended to every need. Particular thanks goes out to Mary LaPell for her "work of heart" giving excellent care until Bud's passing.
At Bud's request, there are no calling hours scheduled.
A private burial in the North River Cemetery will occur in Bud's honor next week.
Please visit www.alexanderfh.net for online guest book and condolences.