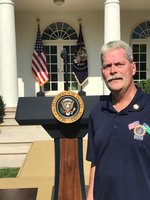 Dennis Patrick "Murph" Murphy
Diamond Point/Brooklyn:
Dennis Patrick Murphy, born July 1, 1962, reached his "end of watch" on Friday morning with his wife Mary Lu by his side, after a courageous battle with 9/11 related cancer.
He attended Paul Smiths College, where he met his wife, and they both earned their degree in Forestry. After appointment to the New York City police department on January 21, 1985, his tenacity and dedication to the job allowed for a rapid rise through the ranks. He earned the rank of detective in March 1992, and was promoted to Detective Second Grade in 2004. He was born and raised in the neighborhood of the 67pct of Flatbush Brooklyn, where he served for the majority of his career.
After 9/11, due to his career experience he was assigned to the morgue. Dennis worked identifying and cataloguing remains, and provided invaluable closure for many victims' families. Although retired, after his 2017 diagnosis he continued to help others as he worked tirelessly to bring awareness to fellow first responders. Dennis was relentless in his work with the Fealgood Foundation, H.O.P.S., and WTC Registry, helping to register many people, and went on to be instrumental in the passing of the VCF Bill.
In 2007 Dennis retired to his dream home on Trout Lake, where he spent as much time on the water as possible. He loved to hunt, golf, boat on Trout Lake and spend time with his family.
Dennis is predeceased by parents Caroline and Jerry Murphy.
He is survived by beloved wife, Mary Lu, sons Sean (Kayla) and Brian, as well as siblings Timmy (Annmarie) and Patti (Paul). Dennis will also be missed by in-laws Sonja and John, and his nieces and nephews, Caroline, Paul Blaize, Jamie, and TJ.
Friends and family may call on Dennis's family from 1-3 and 6-8 pm Tuesday, October 29th at the Alexander Funeral Home, 3809 Main St Warrensburg, NY 12885.
Additional visitation will be held from 2-5 and 7-9 pm, Friday, November 1, at the Marine Park Funeral Home, 3024 Quentin Rd., Brooklyn, NY 11234.
A Mass of Christian Burial will be celebrated at 9:45 am, Saturday at Good Shepherd Roman Catholic Church in Brooklyn. Family and friends are invited to gather at Marine Park Funeral Home one hour prior to the Mass.
In lieu of flowers donations may be made to H.O.P.S. or Amanda's Hope
As Dennis would want included:
To learn more about the World Trade Center Health Program, visit cdc.gov/WTC or call the main line of the Queens Clinical Center at (718) 267-2420
Please visit www.alexanderfh.net for online guest book, condolences, and directions.