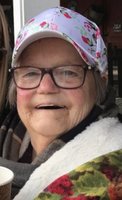 Mildred June Straight
Lake George:
Mildred J. Straight, 84, of Pine Grove Avenue, passed away peacefully, Saturday, October 19, 2019 at her daughter, Bonnie and son-in-law, Calvin's home surrounded by her loving family.
Born May 8, 1935 in Caldwell, she was the daughter of the late Joseph and Ruth (Mattison) O'dell.
She was a lifelong resident of the area and attended Lake George Central School.
She married her high school sweetheart, Charles Straight of Lake George on June 26, 1955 at the Lake George United Methodist Church.
Her greatest joy in life was her beloved husband, her six daughters and many grandchildren and great-grandchildren. She also enjoyed camping with many friends, traveling the United States with her family and creating many unforgettable memories along the way.
She will be remembered as a devoted wife, loving mother, grandmother, and great-grandmother.
Besides her parents and beloved husband of 62 years, Charles Straight, she is predeceased by a brother, Joseph O'dell.
She is survived by her six daughters, Tina Keech and her husband, Frederick of Hudson Falls, Sharon Eggleston and her husband, James of Queensbury, Bonnie Varnum and her husband, Calvin of Lake George, Brenda Hilton and her husband, Robert of Lake George, Connie Howk and her husband, Terry of Queensbury, and Lisa Caivano and her husband, Michael of Moreau; ten grandchildren, Frederick Keech, Jr., Jeremy Keech, Jessica Cuva, Erin Clark, Kelly Dickinson, Jodi Howk, Randy Hilton, James Hilton, and Raven Barrientos, and Emily Caivano; great-grandchildren, Nathan and Owen Keech, Robyn Height, Isaiah, Joey, and Abby Cuva, Salena Dickinson, Carter Ricciardelli, Elliot, Emmett, and Mia Hilton, Ashley, Laney and Josey Barrientos; great-great-grandsons, Cypress and Michael Cuva; three sisters, Gladys Prentice, Joyce Hubbel, and Joan Norton; sister-in-law, Jean O'dell; as well as several nieces, nephews, cousins and lifelong friends, Dean and Marsha Myers of Granville, and Lorraine of Rochester.
Friends may call on Mildred's family from 4 to 7 pm, Wednesday, October 23, 2019 at the Alexander Funeral Home, 3809 Main St., Warrensburg.
A funeral service to celebrate her life will be conducted at 11 am, Thursday, at the Lake George United Methodist Church, 78 Montcalm St., Lake George with Rev. Arnold Stevens, and Rev. Kimberly Townsend, officiating.
Burial will follow in Evergreen Cemetery, Lake George.
Mildred's family would like to extend a heartfelt thank you to her beloved granddaughter, Erin Clark, son-in-law, Calvin Varnum, as well as caregivers, Onna Penniston, Monique Croteau, Sue Prosser, Lorna, Kelsey, High Peaks Hospice, and Lake George EMS for the outstanding care given to her during her final chapter.
Please visit www.alexanderfh.net for online guest book, condolences, and directions.